FAQ
Welcome to our Frequently Asked Questions page. Please review the questions below, it may help answer your own question! If you don't see an answer that will help you, please message Nicole Bogdanovich; the CX support bot. All of the questions will be sent to the online CSR's. We do our best to meet as many different timezones as possible. But that does NOT mean someone is there 24/7, there will not be an instant reply all the time. The people who work as our CSRs have Real Lives to tend to, so be patient. If the creator is needed it may take a few days as he is busy as well and is not here 24/7. We at CerberusXing hope you understand and thank you for your continuing support of the store.
+Why aren't you rigging for _ body?
Every mesh body out on the market is different from one another. Each time we rig it is for a different body/mesh hand/attachment. This is time-consuming for a person to do alone including when they are also doing the:
Meshing
Texturing
Rendering
Rigging
Setting up
You will notice some stores only rig for one body because that is all they have time to do. It is much easier when the creators of the bodies have developers kits. Instead of asking "Why?" to the creators of clothing/accessories/etc. please ask for better Developer Mesh Kits from the creators of the bodies. It would make this process much easier and faster to produce properly rigged items for the patrons of stores.
+Can I get a refund because I didn't read the information board next to the product itself, the Flickr description, or anything that would give details about the product before purchasing?
No, we place this information out for your benefit, not ours. We do give refunds for double purchases, read the size of which you are purchasing.
+No one answered me for days, why is that?
Although we have CSRs from different time zones that doesn't mean there will always be a CSR available and online. We use a bot to help us keep track, but we do have many customers contacting us so things can get eaten. During holidays we are not here because like many others we are enjoying our time with friends and family. We are all human behind these monitors so please respect us, and we will do the same. If you have not heard back from us within three days, please message us again, and we will do our best to get your questions answered. Thank you
+Why don't you do color HUDs?
The current scripts on the market do not support the amount of faces that is needed for our products.
+Why aren't there any colors in the DEMO? I want to see the colors.
We have DEMOs for the customer to see how the rig fits, not to see the colors on the DEMO. All of the colors displayed to purchase are the exact colors you will get with your purchase. All of our ads and vendors are taken in-world.
+Will the __ nails be updated for Bento?
We are currently working on new projects if time allows we will try to do so but there are many events that take priority.
+Does CerberusXing have a marketplace?
We do have one but we do not keep it up to date. It is best to make any purchases at in the in-world store. CerberusXing Mainstore
+I saw there is a newer version of the collar I purchased on the Marketplace. Can I get an update?"
The two collars are similar but the new version is remade from scratch. It is not an update of the previous collar but a remake. We do not offer updates on remakes.
+Why is my neck poking through the Hell's Harbringer collar?
If you are wearing a Catwa Non-Bento Mesh Head your neck will slightly poke through as the head is slightly thicker under the jaw. It works and was rigged around the Catwa Bento Heads. To resolve this issue you can wear the Un-Rigged version of the collar.
+Is CerberusXing looking for bloggers?
Please refer to our Blogotex page
+What is the store group?
Our in-world group is |CerberusXing| Update Group it costs just 50 Linden to join. The perks of joining are the many group gifts set out, updates of the new items, possible early access to events if allowed, and store credit.
You MUST wear your Group Tag to earn Store Credit! Credit will be gained by making purchases at the mainstore. Store Credit can also be used for event vendors and Limited items but NOT gacha.
+Does this item fit this __ mesh body?
We have signs up next to the item indicating what it fits. If it is rigged please try the DEMO to test the fit. At this time we mainly rig for Maitreya, Slink Hourglass, Belleza Jake, and Signagure Gianni.
+How do I get a redelivery of my item?
Please go to the CerberusXing mainstore and go to the redelivery terminal.
It is located next to Nicole as one of the laptops sitting on the desk. If you don't see your item in your list please contact Nicole Bogdanovichole for further assistance.
NO COPY items are not able to be redelivered!
+I played a gacha and did not receive my prize who do I contact?
Please message Nicole Bogdanovichole and have a screenshot of your transaction history.
NOTE: During the opening of events there may be problems with gacha machines delivering the items. Take your time while playing as there is a chance of your item not being delivered. To avoid this please wait a few days after the event has opened to enjoy playing the machine.
+How do I purchase a gift card?
Locate the gift cards in the mainstore, they will be close to Nicole Bogdanovichole.
Left click on the giftcard you wish to purchase.
A window will pop up with the price.
Click on the amount button and it will be purchased.
The item will go to your inventory.
+How do I use a gift card?
Attach your giftcard to your avatar and it should show on your HUD.
It will display the amount of the giftcard in the hover text.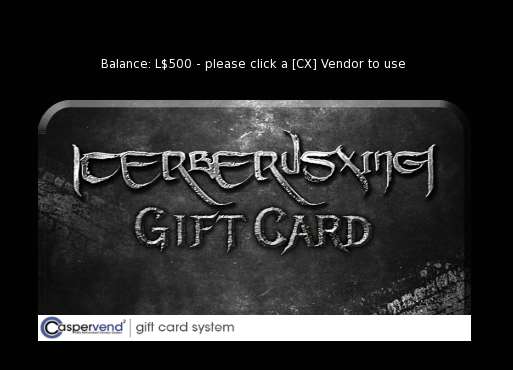 Right Click a vendor and select the Menu Option in the Pie menu.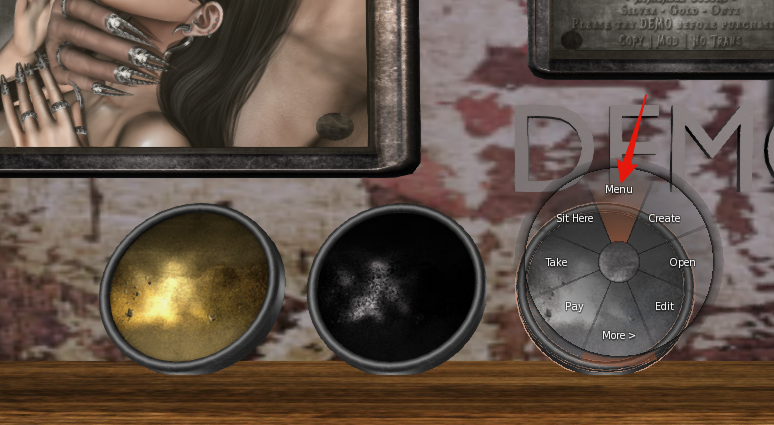 A window should pop up with giving you options.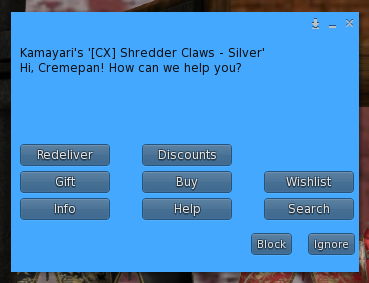 Your giftcard will also change in text displaying a Buy Now button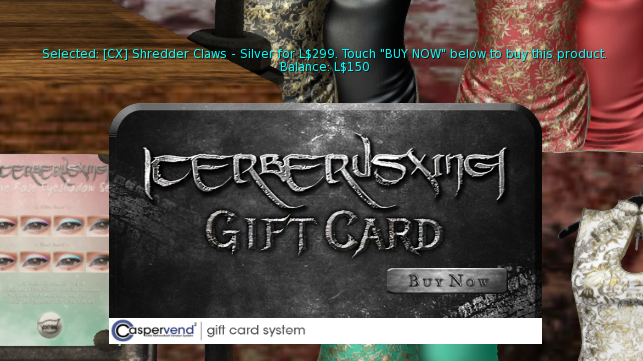 Select Buy then choose giftcard as your source of payment. Instructions will follow by saying select Buy Now option on the giftcard to make your purchase.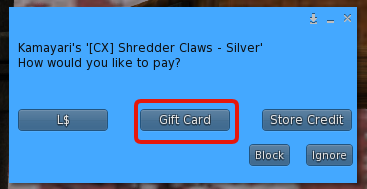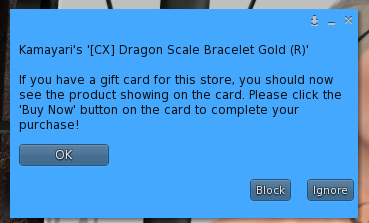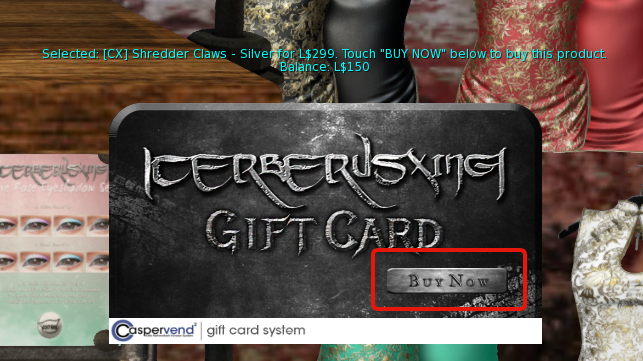 +Does CerberusXing do custom requests/orders?
No, I'm sorry but we do not take any custom requests/orders. If you see an item that was custom made it was for a friend.
+I'm looking for __ item but I can't find it within the store, where is it?
It is possible the item is at an event, if the event has ended please give it some time to be added to the store. The newest items may not be added for a bit but they will return.
+I accidentally deleted my TMP applier in the Style HUD and the applier is used up, what do I do?
Please go to the redelivery terminal and get a new box. Unpack and reinstall the applier to your Style HUD.
+The nails I purchased don't fit my hand or position, will you fit them for me?
No, we can not fit them for you as they are no transfer. The nails are modifiable so you can edit linked parts to fit them to the hand you wish and your hand size. We have pre-fitted nails that you can easily edit.
+I purchased an item from the Epiphany Event, how does this work?
We will only give support to those who purchased from CerberusXing. Just because the item is from our store doesn't mean that we will give support to 3rd party purchases (items from marketplace and yardsales). If there is a problem with a 3rd party purchase please message the person you bought it from.
If you did play and purchase from the CerberusXing machine here are the details of how to either turn in or keep your item.
Once you have rezed the box a message will appear within local chat saying:
It will also pop up a window saying:
You will have 30 seconds to decide if you wish to "Turn in Prize" (this is to redeem the item for Epiphany points to get an Exclusive item from the different vendors) or you will select "Keep Prize" which will allow you to KEEP your item.
If you select "Turn in Prize" the item will disappear and will not be in your inventory.
If you select "Keep Prize" you will have to unbox the gacha twice as this is how the Epiphany scripts are managed for security.
Please be careful in making your decision, if you wish to keep your item select the CORRECT button or else it will be gone. We are unable to retrieve your item nor will we give you a new item, this is considered USER ERROR.
+What is Nicole wearing?
You can check in her Picks on what she is wearing.